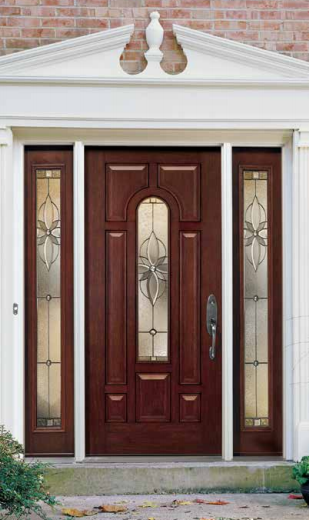 First Impressions
The proper entry door gives a lasting impression to visitors. It is the first and last thing that they encounter, and leaves a lasting impression.  It is important to combine both style and function when choosing the correct door.
Security, Quality, and Weather Tight
In addition to being beautiful, all doors need to be durable and function well. Our doors are built to last and are clad in either steel or fiberglass. Extra care has been taken to ensure weather tightness with quality and lasting seals. Door sills are also low profile to minimize obstructions while coming into your home.
Entry Door Options
There are many options to choose from when choosing entry doors. Finish materials; door, sidelight, and transom combinations; privacy glass options, and finally main door styles.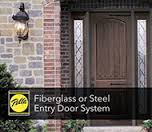 Steel or Fiberglass
Steel provides a durable and smooth finish and comes in a variety of colors. Fiberglass has many texture options including different types of wood grains or smooth, colours including traditional or wood stains.
Door Style
Depending on the opening size, options may include a single door, double door, sidelights, or overhead transoms.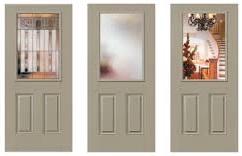 Type of Glass
There are many styles of glass. Clear glass allows in more light, but provides less privacy. Textured glass can provide style and privacy.
Variable privacy and light?
We offer a unique offering of half light and full light doors that have blinds or shades integrated in between the two panes of glass. There are no chords, never any need to clean, just simplicity and enjoyment.
More Details
Above is a summary of the options that are available. To view all of the options and design your perfect entry doors, download the Entry Door Brochure.
Overwhelmed?
We don't blame you. There are lots of options for entry doors. We are here to help and walk you through those options. Contact us and let us know what you like, and we can get you the doors that perfectly match your personality.